EVENTS
BIT's lineup of annual events offers fun, insight, and more!
On Saturday, February 8, BIT will be hosting its 5th annual Dining in the Dark fundraising gala! You can expect an evening of good food, good fun, and good cheer as we enter the new decade.
With a new year and new decade also comes a new theme: On the Cutting Edge. Attendees will be treated to a trip down memory lane with a variety of historical devices and technologies that helped foster independence and opportunity for people with disabilities, as well as a look at groundbreaking new assistive technologies that are set to make the 2020s the best decade yet for diversity and inclusivity!
When: Saturday, February 8, 2020, from 4:30pm – 10:30pm
Where: Renaissance Denver Stapleton Hotel, 3801 Quebec St, Denver, CO 80207
Dress: Semi-formal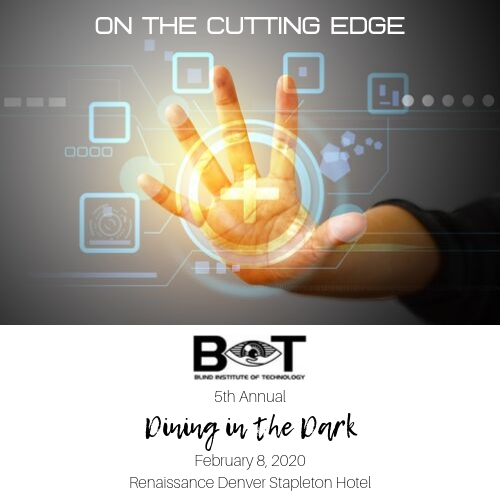 The Blind Institute of Technology™ (BIT) is a 501(c)(3) nonprofit organization providing workforce development and inclusive employment solutions that prepare people with disabilities, and the employers who hire them, for success in the workplace.
Led by Executive Director Mike Hess, BIT aims to help solve the unemployment and diversity and inclusion epidemic among people with disabilities by reducing barriers to employment through education, preparation, employment placement and accessible technology initiatives. Our vision is a world in which people with disabilities have the same employment opportunities as their peers.