BIT Accessibility Symposium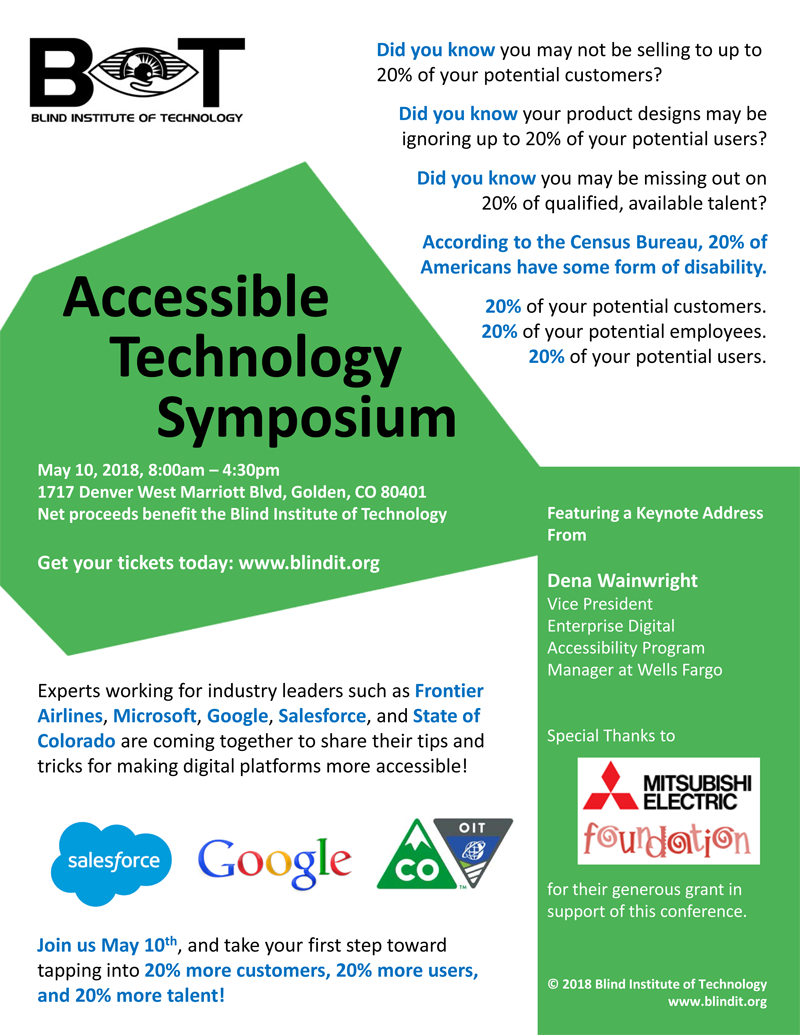 Haven't purchased tickets yet? 
You can pay at the door! We accept credit cards and checks.
What: An industry-led symposium focused on accessible design in technology
Where: Denver Marriott West, 1717 Denver Marriott West Blvd, Golden, CO 80401
When: Thursday, May 10, 2018, from 8:00am – 4:30pm (breakfast and lunch included)
Why: Learn about accessible design, learn what experts working for industry leading organizations such as Microsoft, Google, Salesforce, Frontier Airlines, and State of Colorado are doing to meet the challenge head-on, and learn how these efforts are important for your company's bottom line!
Directions
From the Airport
Hotel direction: 35 miles SW
This hotel does not provide shuttle service
Driving directions:

Take I-70 West to Exit 263. Exit right from the off ramp at the light. Then left at the first light. The hotel is on the left.

Alternate transportation: Golden West Airport Shuttle – 303-756-9399; fee: 45 USD (one way); reservation required
Estimated taxi fare: 90 USD (one way)
General Driving Directions
Use this link to find directions on Google Maps
Use this link to access the RTD trip planner. The end location is Denver Marriott West, station number 34139.
Registration and Venue Information
Registration
Registration opens at 8:00am. Upon arriving at the Marriott, proceed straight ahead to the Grand Ballroom. You'll see our registration tables set up, and there will be volunteers ready to assist you as needed.
Opening remarks will begin at 9:00am sharp, so plan to arrive a bit before then in order to get settled!
Note: If you did not pay for your tickets in advance, you may do so on the day of the event. We will have credit card processing available, and will also accept checks. Cash will not be accepted.
Venue Information
Internet: Complimentary WiFi is available
Meals: A breakfast buffet and lunch buffet will be provided. The hotel also features a bar and dining area for after the event.
Power Outlets: There will be fewer power outlets than there are attendees. If you plan on using electronics, please make sure to fully charge batteries before the event!
Phone Calls: There are numerous hallways, as well as the hotel lobby, available for phone calls that can't wait.
Accessibility: Service animals are permitted for persons with disabilities. The main entrance, lobby, meeting space, restaurants, and lounges are all accessible.

Note: There is a convenient side entrance near the ballroom that leads to a green area where service animals can relieve themselves as needed.
8:00am – Registration and Snacks
9:00am – Welcome, Opening Remarks
Mike Hess and Ethan Twisdale, BIT
9:10am – Giving Accessibility a Face
Paul Seigneur, Student, Golden High School
9:30am – Tips for Improving Verbalization
Roger Benz, Google
10:00am – Accessible User Experience and Agency Cultures
Theresa Montano and Casey Carlson, State of Colorado
10:30am – Major Patterns for Accessible Drag and Drop
Jesse Hausler, Salesforce
11:30am – Microsoft Accessibility Journey
Erin Williams, Microsoft
12:00pm – Lunch and Keynote Address
Dena Wainwright, Wells Fargo
1:00pm – Accessibility Strikes Back
Anant Mistry, Merkle
2:00pm – Frontier Airlines: Our Adventure in Web Accessibility
Kevin Pennock and David Waidmann, Frontier Airlines
3:00pm – Blind Man Running
The Running Blind Team, University of Denver
3:30pm – Closing Remarks
4:00pm – Complimentary Wine Tasting
Tracy Manning, ONEHOPE Wines
Blind Institute of Technology™ is a Denver-based nonprofit organization leading the charge to include disabled professionals in diversity, equity and inclusion initiatives nationwide. Believing that the key to opportunity is through education, preparation and accessible technology, BIT aims to help professionals with disabilities, and the employers who hire them, find success in the workplace. Our vision is a world in which people with disabilities have the same employment opportunities as their peers.