Gain Incredible Insight From Someone Without Sight
You've seen it before: electronic distractions in meetings, individual and team obstacles, rambling e-mails, and the lone rangers can all hamper workplace communication. What if you had a way to remove subjective listening, siloed decision-making and visual distractions from your team's day?
Introducing the Art of Blinders Workshop
This multi-sensory, experiential, team-building communications workshop addresses four of the most common communication issues in corporate America:
DISTRACTIONS | AMBIGUITY | OBSTACLES | COMPETITION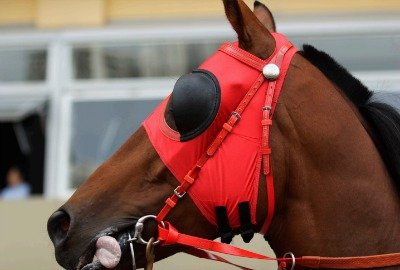 Art of Blinders Workshop Clip:
Walk Away With a Toolkit of Skills, Resulting In:
Improved staff morale and retention
On-time and on-budget projects
Improved quality of information for customers and suppliers
Increased productivity, innovation, and creativity
Fewer, shorter meetings
Less confusion and communication blockers
Better problem resolution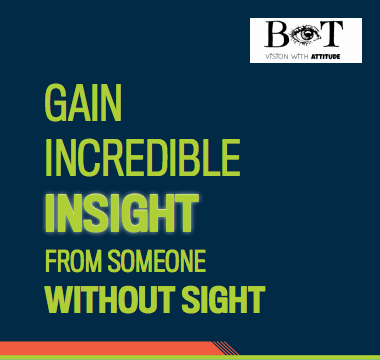 Learn How to Maximize Four Sightless Principles to Improve Communication
Avoid visual distractions. The visually impaired community has no visual distractions when listening. Distractions, even subtle ones, can interfere with listening, understanding and successfully completing tasks. How much better would your team actively listen if they learned to ignore visual distractions?
Urgent and Clear Communication
Clear up ambiguity. Effective communication is paramount to the visually impaired community's success. Instructions and other communications can be easily misinterpreted by teams without clear and concise directions. In fact, poor communications can cost an organization between 25-40% of their annual budget due to lack of clarity, wasted time and projects being delivered late or over budget. Honing clarity and heeding urgency can elevate success.
Remove unseen obstacles. Knowing about obstacles is key to the visually impaired community successfully moving about. Clearing away obstacles is also key to successful teams.
Collaborative Communication
Eliminate competitive behavior. The visually impaired community knows that collaboration is more effective than individual efforts. For example, collaborating with a sighted person to cross a busy street. How might your team's results increase when you collaborate more often?
Each participant will complete an action plan during the workshop that includes concrete steps to improve their communication skills. Interactive discussions, teambuilding exercises, hands-on activities and a little Hollywood magic help participants:
1. Understand how poor communication costs them literally and figuratively
2. Learn to leverage these advanced sensory communication skills or "Sightless Principles" to become more effective communicators and listeners
BIT offers a variety of onsite or offsite workplace programs to meet your needs. Choose from a ninety-minute lunch and learn format or bring your team together for a half-day workshop.
90-minute lunch and learn – $2,500
Half-day workshop – $5,000
Custom programs are also available!
"I wanted a workshop leader who would embody our principles, reinforce our message, and engage our leadership team on a personal level. Mike exceeded all of my expectations. He effectively demonstrated that most obstacles in business can be overcome using the sightless principles of communication he has used all of his life. Our leadership team was invigorated and motivated to take Mike's sightless principles back to their teams. Mike's talk re-ignited their passion to truly take ownership of their markets and continue making a difference in our company and with our partners"
-Rick Smith, CEO BioScrip, Inc.
"Mike brought an incredible insight to our group about the power of concentration, in using all your senses to really focus on the moment rather than the endless distractions of life. We all need to put blinders on to bring our teams together to work more consciously."
-Art Zeile, CEO HOSTING
"I thought the Art of Blinders workshop was very good and insightful. The session clearly illustrated how ineffectively people may be listening even when they actually believe they are and how important effective and focused listening can be to the success of a task or project.
— Sr. Director Engineering and Strategic Planning, SourceGas
"Mike's 'Art of Blinders Workshop' is phenomenal. It forces its participants to think about their everyday interactions in a completely new way and from a very different perspective."
—Timothy J. Brannigan, Assoc. Chief Information Officer Denver Health & Hospital Authority
Meet Your Workshop Leader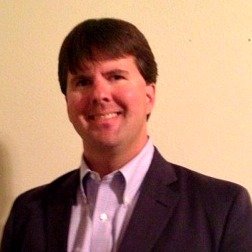 Mike Hess, Founder and Executive Director of BIT
Prior to BIT, Mike Hess was an IT professional for eighteen years, making over six figures in the corporate world because he consistently brought in multi-million dollar IT projects on-time and on-budget – a rarity in today's world. With over 62% of the visually-impaired community educated but unemployed, Mike was in an unique situation.
So what made him so successful? His communication skills. He was able to listen with superb acuity and discern what customers really wanted by using his advanced sensory communication skills, developed due to his blindness. According to Mike, "A sightless point of view to listening brings objectivity, focus and clarity – crucial elements to effective communication."
Under Mike's leadership, BIT has helped secure job placements for BVI candidates with DaVita, Aetna/iTriage, Comcast, Denver Health and many more companies and organizations in the healthcare, financial services, telecommunications and other industries.
The Blind Institute of Technology™ (BIT) is a 501(c)(3) nonprofit organization providing workforce development and inclusive employment solutions that prepare people with disabilities, and the employers who hire them, for success in the workplace.
Led by Executive Director Mike Hess, BIT aims to help solve the unemployment and diversity and inclusion epidemic among people with disabilities by reducing barriers to employment through education, preparation, employment placement and accessible technology initiatives. Our vision is a world in which people with disabilities have the same employment opportunities as their peers.